Twisted Knot Wire Brushes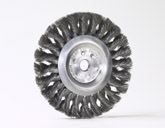 Product Information
Twisted Knot Wheel Brushes: Ideal for weld cleaning, heavy flash removal, and rough surface preparation. Fabricated of high quality, high fatigue straight tempered wire for heavy and severe cleaning applications. Brush diameters range from 3" to 20". Choose from Standard 2/3 Twist, Cable Twist, or Stringer Bead styles for progressively more aggressive brushing action and control. Plain round arbor holes from 3/8" to 1 ¼" are available, as well as a 5/8"-11 threaded arbor hole. Stem mounted knot wheels are available in 3" and 4" sizes. Standard size keyways, special round sizes, and shapes are available on special order as well. Knot wheel brushes may be ordered in double sections, gang-mounted in multiples, or shaft mounted for wide-face operations. Special short trim TOUGHCUT brushes are available in 8" and 10" diameters, and a special concrete joint cleaning brush is available with 0.035" wire.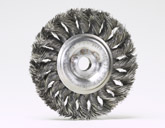 Product Information
Minigrinder Knot Wheel Brushes: A selection of 4" diameter wheel brushes particularly suited for high speed grinder operation and small or tight places. A variety of twisted knot formats are available (standard 2/3 twist, cable twist or stringer bead). Twisted knot brushes are available in .014", .016" and .020" knot wire. Both American and Metric threaded arbor holes are available, as well as a ½" plain arbor hole.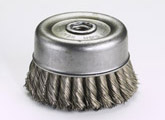 Product Information
Standard Duty Knot Cup Brushes: For use with electric or pneumatic high speed grinders for heavy duty cleaning of large surfaces. Remove weld scale, rust, old paint, and corrosion. Safe free speeds range from 6,000 rpm to 7,000 rpm. Diameters include 3", 4" and 6". Bridled cup brushes 4" and 6" only. Available in multiple formats to suit your job needs:
Standard 2/3 twist, single row: flexible and fast cutting
Cable twist: extremely rugged cutting action
Double row, standard or cable twist: longer life
Bridle-banded: reduces flare for faster cutting action. Bands can be removed as wire wears.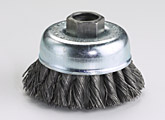 Product Information
Minigrinder Knot Cups: Designed for higher speed rotation in a high speed angle grinder. Suitable for deburring, weld cleaning, paint and rust removal, and surface preparation. A variety of common threaded arbor hole sizes is available including popular Metric sizes to fit all brands of grinders. Recommended maximum safe free speed is 12,500 rpm. Diameter is 2 ¾", and trim length varies by model from ¾" to 7/8".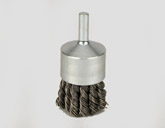 Product Information
Knot Style End brushes: Suitable for severe cleaning applications such as removal of heavy scale, corrosion, weld spatter, and rust. Available in ¾" and 1 1/8" cups, and with optional bridles to control brush face. Standard shank dimensions are ¼" wide by 7/8" long. Standard trim length for Knot Style End brushes is 7/8" to 1-1/8".
Twisted knot brushes can be filled with carbon steel, stainless steel, or for non-sparking applications, brass or bronze wire in the range from 0.0118" to 0.040". The most popular wire sizes are .014" and .020".