Commercial Food Production Conveyor Cleaning Brushes
Spiral Brush manufactures custom designed, made to order Conveyor Cleaning Brushes for the bakery industry. Our experienced brush design engineers work with you to coordinate brush specifications, mounting, and drive mechanisms. Whether your conveyor is belt, mesh, slat, or rod style, we have a conveyor cleaning brush suited for your specific requirements.
These cylindrical, food grade conveyor cleaning brushes are ideal for heat processing equipment including infrared heaters, infrared and hot air and convection dryers, ovens, and conveyorized ovens for commercial food preparation.
Benefits of Bakery and Oven Conveyor Belt Cleaning with Spiral Brushes:
Safety: reduce risk of employee burns
Quality: prevent smoky flavor and burned residue
Productivity: eliminate shutdowns to clean belt
Efficiency: labor saving vs. manual cleaning
Sanitation: keep entire oven line cleaner


Disposable Core slides on and off free end of drive shaft
FEATURES
of Conveyor Cleaning Brushes from Spiral Brushes
Custom designed and made to order:
Experienced brush design engineers work with you to coordinate brush specifications, mounting, and drive mechanisms.
Wire or High Temperature Nylon fill for hot oven baking belt:
Carbon Steel or Stainless Steel wire or High Temperature Nylon food grade fill materials to match composition of oven belt and specific temperature ranges.Range of wire and filament sizes to match desired aggressiveness and belt construction, whether Solid Band or Woven Mesh.
Synthetic fill for dusting applications and cooling-conveyors:

Free-rotating Spiral open-wound brushes economically clean cooling conveyors.Synthetic materials are FDA approved for Direct Food Contact: Nylon 6.12, Polypropylene, & Special High Temperature Nylon.

All stainless steel construction option allows for exposure to washdown environment without corrosion.
Refill/Replacement Options: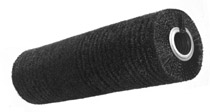 Buy heavy duty core or shaft, and refill at reduced cost versus complete new assembly.Choose un-mounted brush coil for in-house assembly and greater cost savings.OR, buy lighter duty throw-away core, and simply replace entire brush for ease of maintenance.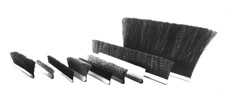 Static strip bakery and oven brushes for product dusting, spreading, crumb sweeps, loose material removal, oven baffles or seals.
Brush mounting hardware available in a variety of shapes.

Refillable Oven Brush on Shaft or core
---
| | |
| --- | --- |
| Wide-face, close wound brush on diposable core with end bushings | At Spiral Brushes, our goal is to assist the bakery production manager to improve quality, productivity, and safety of the operation. We custom design food grade brush products to complement your installed machinery and engineering capabilities.Our engineers assist in the design process by recommending appropriate brush constructions, operating parameters, and mounting considerations. |
Some of the typical design parameters are:
A. Mounting Location: Installed on the outlet end of the conveyor after and below the head roller(s). The conveyor cleaning brush should be mounted in proximity to a support roller for consistent brush surface pressure.
B. Design Width and Diameter: A conveyor cleaning brush should be wide enough to overlap each side of the belt surface by ½" to ensure complete coverage and to accommodate normal belt weave. Brush diameters normally range from 4 to 12 , depending on the desired duty level, run speed, overall length, and space constraints.
C. Fill Material: Size and Selection: To maximize life of brush as well as the conveyor belt, use the finest wire or synthetic filament that will effectively clean the surface with a minimal amount of applied pressure. Synthetic and Wire materials may be mixed to combine sweeping and scrubbing actions in one brush.
a.
Hot Oven Belts:
A stainless steel or carbon steel wire in a range from .005 to .014 may be appropriate for the particular combination of belt material, belt structure, temperature, speed, and contaminant to be removed.
b. Cooling Conveyors: Nylon filaments in a range from .008 to .036 should effectively remove loose food materials from open link stainless steel conveyors. Often these brushes are free-wheeling, driven by the motion of the conveyor itself.
c.Uncooked Dough Conveyors: If direct food contact becomes the issue, fill materials such as Nylon 6.12 or Polypropylene become the standard. The appropriate filament size depends on the task, the consistency of the product, the type of belt material, and other environmental factors.

D. Brush Density: Conveyor cleaning brushes range from close-wound wide-face brushes with a smooth, even appearance to open-Spiral or auger-style brushes with a measured space (lead) between each row of brush. Desired brush aggressiveness and the type of conveyor surface to be cleaned are primary considerations.
E. Refillable or Replaceable; Integral or Removable Shaft: The application may call for a heavy walled brush core with an integral shaft, or a core with machined bushings, keyways and set screws to slide over the free end of a driven shaft. Appropriately constructed brushes may be refilled multiple times. Lighter-weight disposable cores with bushings may be replaced with a new brush when needed, avoiding the logistics of crating and shipping the original brush back and forth.
F. Operating Speed and Direction: Driven conveyor brushes typically operate in the opposite direction of the conveyor path to optimize surface feet per minute. Oven conveyor brush speeds range from 25 to 300 rpm's. Dough conveyor brush speed and direction will depend on whether you are brushing the belt or dusting the product. Cooling conveyor brushes may be driven, as above, or free-wheeling in the same direction as the conveyor.
Brush
Outer
Diameter
4″
6″
8″
10″
12″
Shaft RPM

Surface Feet per Minute

25
26
39
52
65
79
50
52
79
105
131
157
100
105
157
209
262
314
150
157
236
314
393
471
300
314
471
628
785
942
G.Drive System and Pressure Adjustment: Drive systems range widely from a belt and sprocket system taking power from the conveyor itself to electric motors with adjustable speed output. Pressure adjustment should ensure that the brush remains level with respect to the belt to avoid excessive wear on one side of the brush. Adjustable mounting mechanisms range from vertically adjustable pillow blocks to pneumatically loaded brush carriages.
H. Guarding & Debris Collection: Shrouding should be designed to deflect and control debris removed from the belt, and to ensure worker safety near the rotating brush.
I. Flicker Bar: In some cases, to keep the face of the brush free from accumulations of product or debris, a flicker bar arrangement is appropriate.
Want more information about these food grade bakery brushes? Contact us today!