Steel Strip Brushes
Steel strip brushes perform many functions in a manufacturing or production environment. Steel strip brushes feature a formable metal structural element known as a channel base, and steel wire brush fill that can be varied by trim length, density, and wire diameter- all of which affect the aggressiveness of the brushing action.
For a custom quote on steel strip brushes, start by selecting a channel size from the chart below:
Strip Brush Diagram
Channel
Size
(A)
Base Width
± .010″
(B)
Leg Height
± .010″
Minimum
Visible Trim
Wire Fill
Size Range
Send
RFQ
4
.190″
.195″
0.5″
.003″-.008″
5
.210"
.250"
0.625"
.003"-.010"
7
.300"
.315"
0.75"
.003"-.020"
8
.335"
.375"
0.75"
.003"-.026"
10
.385"
.480"
1.0"
.003"-.026"
12
.430"
.565"
1.0″
.003"-.026"
Channel base material options for steel brush strip lengths include:
Galvanized Steel – most economical
Stainless Steel – resists corrosion
Brass – low electrical resistance
Aluminum – resists corrosion, lightweight
Steel Wire: Attributes and Applications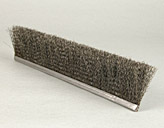 Steel wire strip brushes are suitable for a wide variety of applications and are generally the most economical of the different metal brush options. Steel wire is the hardest of the commonly offered brush wires, providing a high fatigue life and durable cutting action. Steel wire is most appropriate for work on steel and iron work pieces, but may also be used on wood, concrete, and other softer metals. As a general guideline, the softer the material coming in contact with the brush strip, the more likely that a steel wire brush will cut into and remove base material in addition to any targeted coating or contamination.
A brush strip filled with steel wire can function as a brush seal on a piece of equipment, a flexible shield against dust, light, heat, or intrusion into a point of operation. Mounted to contact a conveyed product, steel strip brushes can function as a product hold-down, an applicator of dry coatings, or as a static or driven scrub brush to remove loose material. Inserted into a paddle wheel style cylinder assembly for conveyor cleaning applications, steel brush strips allow you to perform brush refills in-house. When wrapped around an auger-shaft or added to the flights of an auger screw, a steel wire filled strip brush becomes a flexible flight capable of moving product without damage.
Heat and Moisture:
Steel brush wire is appropriate for applications in which constant operating temperatures approach up to 275° F, but can be used where the strip brush will come in contact with higher temperatures for shorter periods of time. When ambient temperatures will exceed 275°F, stainless steel wire strip brushes should be considered. Stainless brush strips should also be considered for wet application situations when corrosion can be a factor.
The following types of steel wire can be incorporated into your brush seals and strip brushes:
| Spiral Designation | Description | Size Range | Applications |
| --- | --- | --- | --- |
| SST: medium to aggressive wire | High Tensile, Oil Tempered, High Carbon Steel | 0.008″ up to 0.035″ in diameter | Surface preparation, removal of paint or corrosion, weld preparation, roughening, deburring |
| SHS: fine wire | Hard Drawn, High Carbon Steel Wire | 0.003″ to 0.006″ in diameter | Removal of light surface deposits, polishing |
| LC: Low Carbon | Medium Tensile, Mild Steel, High Ductility | 0.003″ to 0.006″ in diameter | Polishing and light scrubbing, some corrosion resistance, high magnetic properties. |
| Brass Plated Steel | Hard-Drawn, High Carbon Steel Wire | 0.008″ through 0.028″ | Corrosion resistant steel wire brushes. |
| Galvanized Steel Cable | Hard Drawn, High Carbon Steel | 3/64″ @ 1×19 ply, and other sizes upon request | Long wearing and corrosion resistant |
Other materials, such as thin metal foil, Teflon® fabric, or EPDM rubber sheeting, can be inserted into the center of a strip brush to provide a solid barrier in addition to the brushing action. We will work with you to design and deliver the most appropriate brush required for your specific application.
Spiral Brush also offers strip brush holders in a variety of sizes and configurations.
Steel Strip Brush Holders:
| | | |
| --- | --- | --- |
| Strip Brush Holder Vertical | Strip Brush Holder Horizontal | Double Channel Strip Brush Holder |

Stainless Steel Strip
Brush Holder

Stainless Steel Channel Clip
and Steel Channel Clip
Steel wire is not recommended for strip brushes to be used in the following situations:
Wet Environment: Strip brushes that are exposed to high humidity and moisture will rust and corrode, unless galvanized or plated. Stainless steel wire and stainless steel internal components are recommended for wet environments.
Brushing Softer Metals: Use of a carbon steel wire brush on stainless steel, brass, or copper will contaminate the surface and leave an "after-rust" effect. To prevent "after-rust," use a stainless steel wire on stainless steel, and use stainless steel, aluminum wire, or abrasive nylon on aluminum.
Non-spark environments : Do not use a steel wire brush in an environment where sparks pose a potential safety problem. Use a brush with brass or bronze wire and appropriate safety precautions.
Learn More About Steel Strip Brushes
Do you have a steel strip brush application that you would like to discuss? Contact Spiral Brushes to learn which steel strip brush options are best for your specific application.