Tampico / Natural Fiber Strip Brushes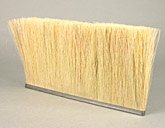 Spiral Brush offers a variety of custom tampico strip brushes and other natural fiber strip brushes manufactured from vegetable fibers. Tampico strip seals and brushes feature a formable metal structural element known as a channel base, and tampico brush fill that can be varied by channel backing size, trim length, and density to affect the aggressiveness of the brushing action.
For a custom quote on tampico strip brushes, start by selecting a channel size from the chart below:
Strip Brush Diagram
Channel
Size
(A) Base Width
± .010″
(B) Leg Height
± .010″
Minimum
Visible Trim
Send
RFQ
4
.190″
.195″
0.5″
5
.210"
.250"
0.625"
7
.300"
.315"
0.75"
8
.335"
.375"
0.75"
10
.385"
.480"
1.0"
12
.430"
.565"
1.0″
Channel base material options for tampico brush strip lengths include:
Galvanized Steel – most economical
Stainless Steel – resists corrosion
Brass – low electrical resistance
Aluminum – resists corrosion, lightweight
Tampico Fiber: Attributes and Applications
Tampico fiber is harvested from the Agave Lechuguilla plant growing wild in Mexico, and offers superior water absorption and retention, compared to synthetic filaments. Tampico strip brushes also provide good heat resistance, and are rated for a maximum wet operating temperature of 400°F. Tampico strip brush can be used either wet or dry for scrubbing, washing, polishing, and dusting. Tampico fibers used to fill strip brushes can be also treated to make them stiff and tacky for the application of grease stick and abrasive compounds.
A brush strip filled with tampico fiber can function as a brush seal on a piece of equipment, a flexible shield against dust, light, mist, or intrusion into a point of operation. Mounted to contact a conveyed product, tampico strip brushes can function as a product hold-down, an applicator of wet or dry coatings, or as a static or driven scrub brush to remove loose material. Inserted into a paddle wheel style cylinder brush assembly for conveyor cleaning or polishing applications, tampico brush strips allow you to perform brush refills in-house. When wrapped around a shaft to form a wide face cylinder brush, a tampico filled strip brush becomes a scrubbing or polishing brush capable of covering a broad work surface.
Tampico Strip Brush Options
Synthetic alternatives to the tampico strip brush have been developed in the past few years. Consideration may be given to each of these when choosing brush fill materials. For special applications, mixtures of horsehair and nylon, tampico and horsehair, wire and tampico, wire and synthetics, and other combinations can be provided.
Spiral Brush also offers a variety of strip brush holders in sizes and ganged configurations to fit whatever size strip you select.
Tampico Strip Brush Holders:
| | | |
| --- | --- | --- |
| Strip Brush Holder Vertical | Strip Brush Holder Horizontal | Double Channel Strip Brush Holder |

Stainless Steel Strip
Brush Holder

Stainless Steel Channel Clip
and Steel Channel Clip
Learn More About Tampico Strip Brushes
Have questions about replacing a worn Tampico strip brush or have a new need? Interested in receiving a quote, or need help specifying a Tampico fiber brush? Contact Spiral Brushes to learn which Tampico strip brush options are best suited for your specific application.