Horse Hair Strip Brushes
Spiral Brushes offers horse hair strip brushes, manufactured using natural fibers from the mane or tail. Horse hair fiber has good polishing and cleaning properties, suitable for applications where a metal wire brush material or synthetic filament may not be appropriate.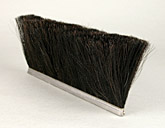 Spiral Brushes' horse hair is produced from the mane or tail hair, and normally we stock stiff black horse hair, although other specifications, such as soft grey, are available to meet customer requirements. Horse hair provides the ability to polish, dust, or clean the surface without being abrasive, and offers a wet operating temperature up to 400° F. Horse hair can be mixed with other natural fibers, synthetics, or wire materials for specific application requirements.
Horse Hair Strip Brush Options
A synthetic alternative to horse hair strip brushes has been developed in the past few years. Consideration may be given to each of the options when choosing brush fill materials.
For a custom quote on horse hair strip brushes, start by selecting a channel size from the chart below:
Strip Brush Diagram
Channel
Size
(A) Base Width
± .010″
(B) Leg Height
± .010″
Minimum
Visible Trim
Send
RFQ
4
.190″
.195″
0.5″
5
.210"
.250"
0.625"
7
.300"
.315"
0.75"
8
.335"
.375"
0.75"
10
.385"
.480"
1.0"
12
.430"
.565"
1.0″
Channel base material options for horse hair brush strip lengths include:
Galvanized Steel – most economical
Stainless Steel – resists corrosion
Brass – low electrical resistance
Aluminum – resists corrosion, lightweight
Spiral Brush also offers a variety of strip brush holders in a variety of sizes and configurations.
Horsehair Strip Brush Holders:
| | | |
| --- | --- | --- |
| Strip Brush Holder Vertical | Strip Brush Holder Horizontal | Double Channel Strip Brush Holder |

Stainless Steel Strip
Brush Holder

Stainless Steel Channel Clip
and Steel Channel Clip
Learn More About Horsehair and Other Natural Fiber Strip Brushes
Do you have questions about replacing a worn horsehair strip brush or have a new application that you would like to discuss? Interested in receiving a quote, or need help specifying a horsehair or natural brush? Contact Spiral Brushes to learn which horsehair strip brush options are best suited for your specific application.