Brass Strip Brushes
Brass strip brushes can be used for a variety of purposes in manufacturing and production environments. A brass strip brush features a formable metal structural element known as the channel base, and brass wire fill that can be varied by trim length, density, and diameter or thickness – all of which affect the aggressiveness of the brushing action.
Spiral Brush manufactures strip brushes using a variety of channel sizes:
Strip Brush Diagram
Channel
Size
(A)
Base Width
± .010″
(B)
Leg Height
± .010″
Minimum
Visible Trim
Wire Fill
Size Range
Send
RFQ
4
.190″
.195″
0.5″
.003″-.008″
5
.210"
.250"
0.625"
.003"-.010"
7
.300"
.315"
0.75"
.003"-.020"
8
.335"
.375"
0.75"
.003"-.026"
10
.385"
.480"
1.0"
.003"-.026"
12
.430"
.565"
1.0″
.003"-.026"
A brush strip filled with brass wire can be used as a brush seal on a piece of equipment. A strip brush seal is a flexible shield against mist, dust, light, heat, or intrusion into a point of operation. When mounted on equipment to contact a conveyed product, brass strip brushes can function as a product hold-down, a static reduction device, a detector of holes in insulating coatings, an applicator of wet or dry coatings or a duster to remove loose material.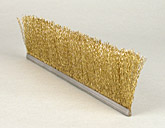 Mounted on a conveyor line, a brass strip brush can redirect or stabilize your moving product or sweep away loose debris. Inserted into a paddle wheel style cylinder assembly for conveyor belt cleaning applications, brass brush strips allow you to perform brush refills in-house. When wrapped around an auger-shaft or added to the flights of an auger screw, a brass wire filled strip brush becomes a flexible flight capable of moving product without damage.
Brass wire is softer than steel wire or stainless steel wire, and offers a brushing action that will not scratch harder metals. Our brass wire is Alloy 260, composed of 70% Copper and 30% Zinc. If your work-piece is either brass or copper, then brass wire may be the most suitable choice. Brass wire (as well as bronze wire) will not generate sparks when struck against other metallic surfaces, and is suitable for hazardous environments(1) . Brass wire is also an excellent conductor of electrical energy (28% IACS), and is suitable for static reduction applications when incorporated into a brass, steel, or stainless steel channel backing. Brass wire is appropriate for operating environments up to 300°F constant temperature. Brass wire is also relatively corrosion resistant.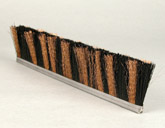 We can mix materials to accomplish multiple functions, such as nylon and fine brass/bronze wire to dust and reduce static. We can insert other materials, such as thin metal foil, Teflon® fabric, or EPDM rubber sheeting, into the center of a strip brush to provide a solid barrier in addition to the brushing action. We will work with you to design and provide the exact brush required for each application challenge.
Channel base material options for brass brush strip lengths include:
Galvanized Steel – most economical
Stainless Steel – resists corrosion
Brass – low electrical resistance
Aluminum – resists corrosion, lightweight
Spiral Brush offers brass strip brushes made from the following sizes of crimped brass wire:
Crimped Brass Wire Diameters
| | | | | | | |
| --- | --- | --- | --- | --- | --- | --- |
| .004″ | .0055″ | .008″ | .010″ | .012″ | .015″ | .020″ |
Spiral Brush also offers strip brush holders in a variety of sizes and configurations.
Brass Strip Brush Holders:
| | | |
| --- | --- | --- |
| Strip Brush Holder Vertical | Strip Brush Holder Horizontal | Double Channel Strip Brush Holder |

Stainless Steel Strip
Brush Holder

Stainless Steel Channel Clip
and Steel Channel Clip
Learn More About Brass Strip Brushes
Do you have questions about replacing worn brass strip brushes or have a new application that you would like to discussneed? Interested in receiving a quote, or need help specifying a brass brush seal? Contact Spiral Brushes to learn which brass wire strip brush options are best suited for your specific application.
(1) NOTE REGARDING SPARK-PROOF APPLICATIONS: Other components of a brass wire brush, such as the channel base, holding wire, or brush holder, might not provide the same non-sparking protection, so be sure to evaluate the entire brush and its interaction with the application before using the brush in a hazardous environment.