Abrasive Nylon Strip Brushes
Abrasive grit encapsulated into extruded nylon filament enables an abrasive nylon strip brush to perform more aggressive cleaning from a static position. Abrasive nylon as a fill material in strip brushes provides you the flexibility and conformability of a brush, while also giving you the benefits of an abrasive. You can select grit size in tandem with the filament diameter to control the aggressiveness of the cleaning action and the stiffness of the filament.
Abrasive
Coarse
Medium
Fine
Grit Size
46
80
180
320
500
600
Filament Size
.060″
.040″
.035″
0.022″
0.18″
0.012″
Other grit sizes and filament shapes are available, subject to stock condition and minimum purchase requirements.
Abrasive nylon is suitable for use on a broad range of materials. Spiral Brushes can custom manufacture strip brushes in a broad range of abrasive nylon grit sizes.
For a custom quote on abrasive nylon strip brushes, start by selecting a channel size from the chart below:
Strip Brush Diagram
Channel
Size
(A)
Base Width
± .010″
(B)
Leg Height
± .010″
Minimum
Visible Trim
Synthetic Fill
Size Range
Send
RFQ
4
.190″
.195″
0.5″
.003″-.014″
5
.210"
.250"
0.625"
.003"-.020"
7
.300"
.315"
0.75"
.003"-.060"
8
.335"
.375"
0.75"
.003"-.120"
10
.385"
.480"
1.0"
.003"-.120"
12
.430"
.565"
1.0″
.003"-.120"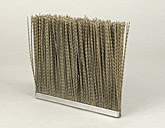 Popular applications for abrasive nylon strip brushes include cleaning of overhead conveyor rails, both I-beam and enclosed styles, as well as the chain trolleys involved in powder coating and painting operations. The chain-driven trolleys need to be kept clean to minimize contamination of the conveyed product due to debris falling from above. Custom designed abrasive nylon strip brushes can be mounted to continuously clean the moving chain trolley, or travel the full length of the conveyor line to perform I-beam or enclosed track cleaning as an off-line operation.
For many dry, industrial applications of an abrasive nylon strip brush, nylon 6-6 is acceptable. More demanding applications may require the additional heat resistance, lower water absorption and increased toughness of a nylon 6-.12.
Both Silicon Carbide grit and Aluminum Oxide grit are available, and approximate a 30% loading by weight in the extruded nylon filament. Silicon Carbide is more commonly used because it is harder and sharper than aluminum oxide, and it is preferred for finishing ferrous metals. Aluminum oxide grit is less likely to fracture and is preferred for finishing softer metals including stainless steel and aluminum, wood and plastics. Aluminum Oxide also eliminates the small risk of contamination of the stainless steel or aluminum surface by free carbon deposits from the silicon carbide.
Different from a typical wire strip brush where the operating guidance is to use the tips of the wires to do the work with light pressure, an abrasive nylon strip brush abrades with the sides of the filament as well as the tips because the grit is spread randomly throughout the filament. As a result, greater engagement of the brush face may increase the effectiveness of the scouring action of the brush or seal.
Channel base material options for abrasive nylon brush strip lengths include:
Galvanized Steel – most economical
Stainless Steel – resists corrosion
Brass – low electrical resistance (offered in sized #5 and #8 only)
Aluminum – resists corrosion, lightweight
Spiral Brush also offers a variety of strip brush holders in sizes to fit whatever size strip you select.
Abrasive Nylon Strip Brush Holders:
| | | |
| --- | --- | --- |
| Strip Brush Holder Vertical | Strip Brush Holder Horizontal | Double Channel Strip Brush Holder |

Stainless Steel Strip
Brush Holder

Stainless Steel Channel Clip
and Steel Channel Clip
Learn More About Abrasive Nylon Strip Brushes
Have questions about replacing worn abrasive nylon strip brushes or have a new need? Interested in receiving a quote, or need help specifying an abrasive nylon brushl? Contact Spiral Brushes to learn which abrasive nylon strip brush options are best suited for your specific application.