Natural Fiber Brushes
Tampico: Spiral Brush offers a wide variety of standard and custom brushes filled with this natural vegetable fiber. Tampico fibers are harvested from a variety of cactus plant growing wild in Mexico . It can be used either wet or dry for scrubbing, washing and dusting. Tampico can be treated to make it stiff and tacky for application of grease stick and abrasive compounds. Popular brush configurations are shown below.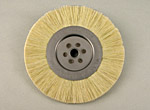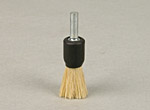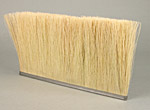 Maximum wet operating temperature is 400°F.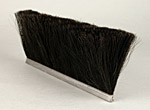 Horsehair: Available in stiff black and dark gray soft versions, horsehair is appropriate for fine dusting, cleaning, and polishing applications. Maximum wet operating temperature is 400°F.
Popular brush configurations include wheel, cup, end, strip, and cylinder brush.
Synthetic alternatives to both tampico and horsehair have been developed in the past few years. Consideration may be given to each of these when choosing brush fill materials.
Special Mixtures: For special applications, mixtures of horsehair and nylon, tampico and horsehair, wire and tampico , wire and synthetics, and other combinations can be provided.