Bronze Wire Brushes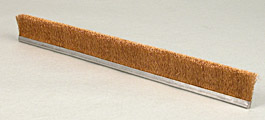 Bronze wire is harder and stiffer than brass wire. We utilize a Phosphor Bronze wire, Alloy 510, consisting of 95% Copper and 5% Tin. The presence of Tin improves fatigue strength and tensile strength over the C-260 brass wire.
Bronze wire will not generate sparks when struck against other metallic surfaces, and is suitable for hazardous environments (1) . Bronze wire is a good conductor of electrical energy (15% IACS), and is suitable for static reduction applications when incorporated into a bronze wire strip brush with a brass channel backing. Bronze is appropriate for operating environments up to 400°F constant temperature. Bronze wire is also relatively corrosion resistant.
Popular Applications for Bronze Wire brushes: :
Cleaning plastic extrusion parts, including molds, dies, and extruder barrels
Wiping tenter frame rollers in synthetic fiber plants
Cleaning machine parts where sparks might pose a risk of fire or explosion
Cleaning metal parts without removing any of the base material.
Satin finishing aluminum extrusions or sheet
Static reduction brushes for industrial environments
Spiral brush manufactures and sells bronze brushes in the following forms: wheel brushes, cup brushes, end brushes, twisted knot wheel brushes, twisted knot cup brushes, strip brush, spiral wound cylinder brushes, twisted in wire tube brushes, maintenance brushes, scratch brushes, and stapleset cylinder brushes.
Spiral Brush offers brushes made from the following sizes and types of bronze wire:
Wire Format
Available Sizes
Crimped Wire
003", 005", .008",
.010", .012", .015",
0.020"
Level Wire: For Twisted Knot Wheel & Cup Brushes
0.014″, 0.0204″
(1) Other components of a bronze wire brush, such as the steel sideplate, cup or shank, might not provide the same non-sparking protection, so be sure to evaluate the entire brush and its interaction with the application before use in a hazardous environment.